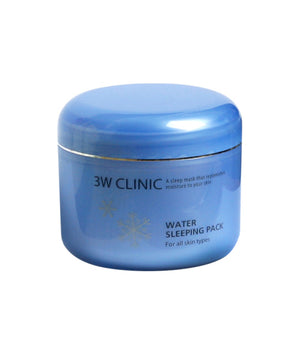 JameelaMall
3W Clinic Water Sleeping Pack
Sale price Price QAR 88.00 Regular price Unit price / per
Night masks provide active skin care during the sleep. At night when your skin is free from makeup and other impurities, muscles are relaxed, blood flows to the dermis, and cell respiration increases. While we sleep, our skin is renewed and restored, it is able to react as efficiently as possible to the active ingredients.
3W Clinic Water Sleeping Pack creates a protective barrier on the skin that prevents moisture loss. The mask has a pleasant consistency of the gel, does not leave a sticky feeling on the skin, effectively tightens it (lifting effect), and restores skin elasticity during your sleep. The Water mask intensively moisturizes the skin, normalizes metabolic processes in the tissues, refreshes and tones, and smooths fine wrinkles while you rest.
HOW TO USE:
Apply 3W Clinic Water Sleeping Pack over your face before going to bed. Next morning wash off the mask with warm water. Use 2-3 times a week.
VOLUME
100 ml