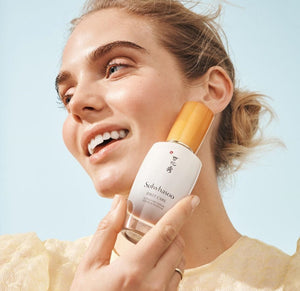 Sulwhasoo
First Care Activating Serum EX (Eid Special Price - in May only)
Sale price Price QAR 299.00 Regular price Unit price / per
Sulwhasoo's fragrance record, "First Peace"
A beautiful fragrance harmonizing with nature evokes delicate inner sensibility and completes authentic holistic beauty
Reset your youth, deflect five signs of aging
An essential first-step serum formulated with JAUM Balancing Complex™ assures a glowing and healthier look by harmonizing the balance of skin.
- Bestseller serum product. Sulhwasoo sells 1 product every 10 seconds. *
- Ranked no. 1 in the anti-aging and serum category at department stores for 6 consecutive years. **(*January ~ December 2018, based on cumulative sales in Korea/ **2014 ~ 2016, Beaute Research Korea)
Deflect five signs of aging*; Resilience, Vitality, Nourished, Clarity, Elasticity
180% more concentrated than before, the new JAUM Balancing Complex™ provides comprehensive skin care for beautiful balance. For dried skin caused by aging, the complex nourishes, rejuvenates, and firms the appearance of the complexion for a healthier glowing skin.
JAUM Balancing Complex™ cares for skin balance
From over three thousand Korean herbal ingredients found in ancient studies, just five were carefully chosen after countless trial and error, completing the JAUM Balancing Complex™ through an 18-hour process of pure dedication.
First-step activating serum enhances the effectiveness of other products that follow
Used as the first step after cleansing, our serum helps boost your next skincare product's absorption, usage, and results. It's suitable as the first step even for customers with delicate or sensitive skin.